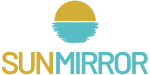 GREEN METALS
What are
Green Metals

?

As governments around the world continue making their pledges to reach net zero emissions of greenhouse gases over the next few decades, there are certain metals which will continue to experience a huge demand as we transition to a green economy.

Lithium, Nickel and Cobalt are the green battery metals that are needed as we make the shift towards electric vehicles and renewable energy.
STRATEGIC ASSETS
Focus on Resources Powering the Future


We have carefully built a portfolio of highly-strategic and sought-after "Green" minerals that will benefit from the ongoing revolution in EV's, renewable energy and much beyond. This portfolio, held by SunMirror's wholly owned subsidiary, SunMirror Luxemborg S.A., includes sites in various stages of development in Australia.


INDUSTRY NEWS
INVESTOR RELATIONS
Empowering Results for Our Financial Partners
For stock information, financials and Ad-hoc press releases please visit our Investor Relations page.
CONTACT US
SunMirror AG
Steinhauserstrasse 74
6300 Zug
Switzerland
Tel:
+41 (0) 43 505 1400
Email: info@sunmirror.com